The Ministry of Agriculture and its partners organized national stakeholders consultative meeting with a theme of "Organic Fertilizer for Sustainable Agriculture, Environmental Health and Foreign Currency Saving." the consultative meeting is underway and will resume till this afternoon at Hyatt Regency Hotel, Addis Ababa. The workshop has brought together different participants representing CSOs, research institutes,  universities, researchers, private sectors, Governmental officials, agricultural experts and media attended the workshop.
The official opening ceremony was given by Pro. Dr. Eyasu Elias, State Minister of the Ministry of Agriculture. During his speech, he has expressed his concerns on the timely supply of fertilizers and reiterated the importance of focusing on natural fertilizers as well. Next to the opening session, Mr. Tefera Solomon, Director of the soil fertility directorate, has presented about the different technologies implemented in Ethiopia.
The consultative workshop combine presentation from subject experts , panel discussions of experts to set the scene. on the occasion, PELUM Ethiopia will present its vast experiences by Tamirat Alemu, soil fertility expert, on the preparation and utilization of organic fertilizer practices at one of its project areas located in Huruta, Lode Hitosa Woreda of Arsi zone.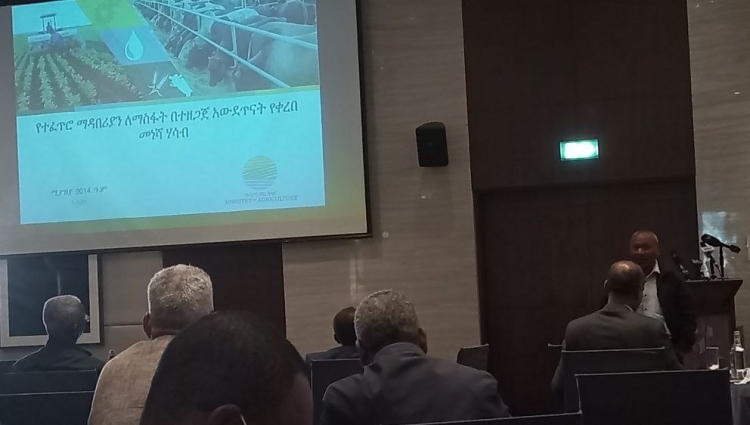 the national consultative workshop mainly focuses discussing on the challenges like shortage of fertilizers and their alarming price in the world market as well as exploiting the indigenous knowledge of our farmers in utilizing organic fertilizers to sustainably increase  the production and productivity of the farming system. Moreover, they will discuss on implementation strategies at national agricultural extension level.
During the one day workshop, participants are expected  for a meaningful contribution to proceeding of the national stakeholders consultative meeting and share their indigenous knowledge and vast experiences on how to scale out the use of organic fertilizers at different areas of the country by minimizing the extreme dependency on external inputs.