PELUM Ethiopia has organized practical training for member organizations and partners on implementation of Agro-ecology at smallholder farming level with a special focus on organic soil, diversification and crop protection. the training consisted theoretical and practical trainings, discussions as well as experience sharing visits. During their stay, Participants practiced conventional compost, organic pesticide (ash brew), and liquid fertilizers. 
The training was organized in Addis Ababa, Melkasa research center, Huruta and Adama and held from 6-9 April 2022. the training brought together around 22 participants representing member organizations, potential partners and staff members. The first training day was in Addis Ababa and the participants who came from different places gathered in Panorama Hotel. during the morning session, there was presentation, discussions on the existing situation of Agro-ecological practices and challenges. the session was commenced with welcoming address and opening speech to the participants by Dr. Hailu Araya, PELUM Ethiopia Director. after the opening session, one presentation was delivered by Dr. Hailu focused on the brief lessons on agroecological principles and elements.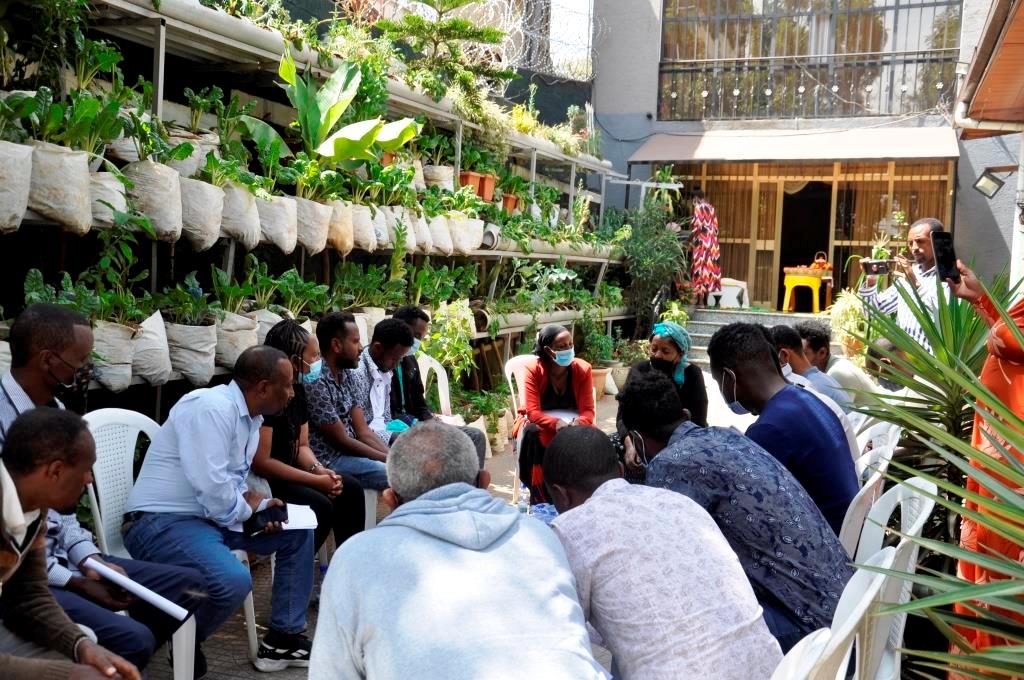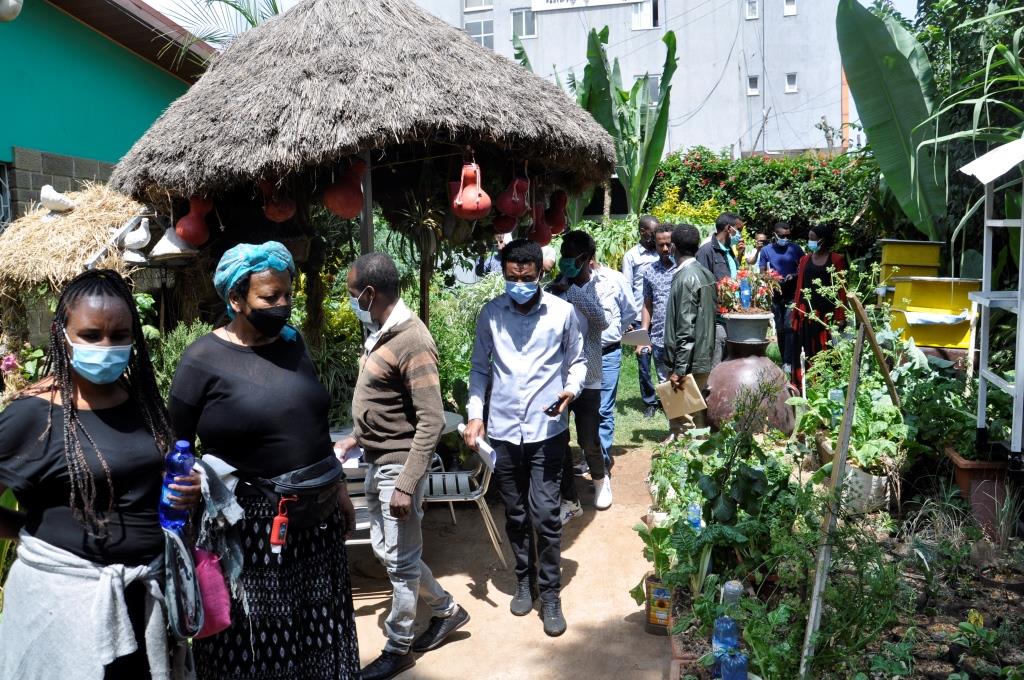 during the afternoon session, participants traveled to Woreda 8, Yeka sub-city to visit one exemplary household engaged in urban agriculture which is run by  Mrs. Aberash Wakjira. her holdings is well diversified with different vegetables (raised and potted), medicinal plants, Bee keeping, poultry, livestock production. after the visit, the participants gathered for brief discussion.meanwhile,             
 The second day training was conduct at Melkasa research center. Participants were given practical trainings on overall management of fruit trees like Banana, Papaya, Mango and Avocado. The training consisted different topics starting from land preparation, planting methods, irrigation, fertilization, grafting, transplanting to the overall management of fruit trees. After completing the training at the research center, participants travelled to visit fruit growing farmer located around Sodore recreation center. The exemplary farmer is technically supported by the Melkasa research center. Different subtropical tree baring fruits are grown very well. Ash brew, Organic plant protection solution which is made of bar soap and ash mixed with water was once again prepared inside the farmers' premises to minimize the infestation of pests and make him aware how to transform his farm in to more agro-ecological friendly.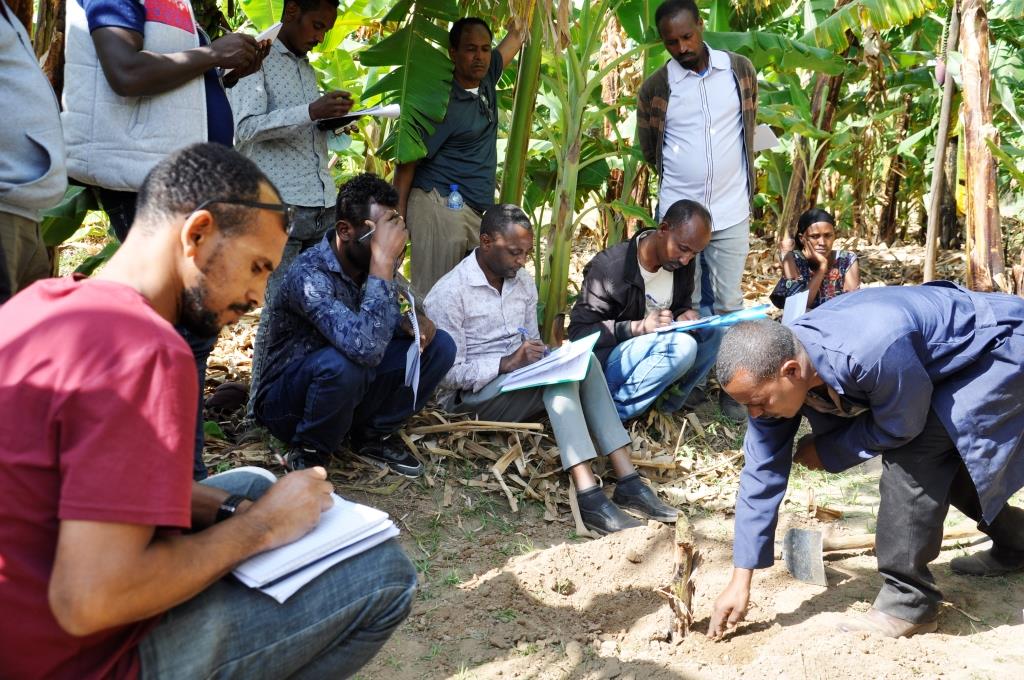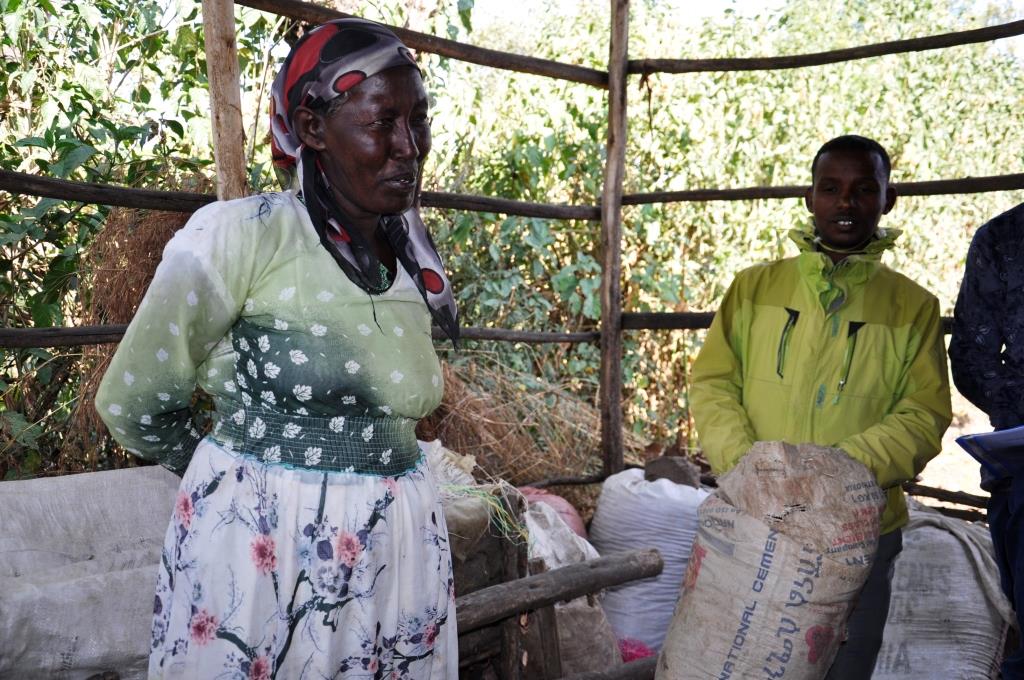 day three, trainees traveled to Huruta, Lode Hitosa woreda of ArIsi zone.During the morning session, they visited two households implementing different agroecological practices. a pioneer vermi-compost production site in the woreda owned by Mrs. Tsige. trainees have got the chance to understand the production process in simple way. the next experience sharing visit was at Mr. Gezaghgn's premises. training participants abled to witness the biogas digester, bio-slerry production, hole preparation for next planting, well managed fruit trees and vegetables.Trainees also visited exemplary home gardening in Huruta town which diversified with different activities like livestock, poultry, bee keeping, organically produced fruit and vegetable crops(hanging), bio-slurry, nursery, vermicompost, conventional compost etc. The final session of the day was practical conventional compost which is organized at Mr. Sisay's premises. the organizers of the training adopted a simple way of making compost. on the occasion, participants happily involved themselves in practically making heap of compost. Having completed the practical training, trainees traveled to sodore to spent some time to relax.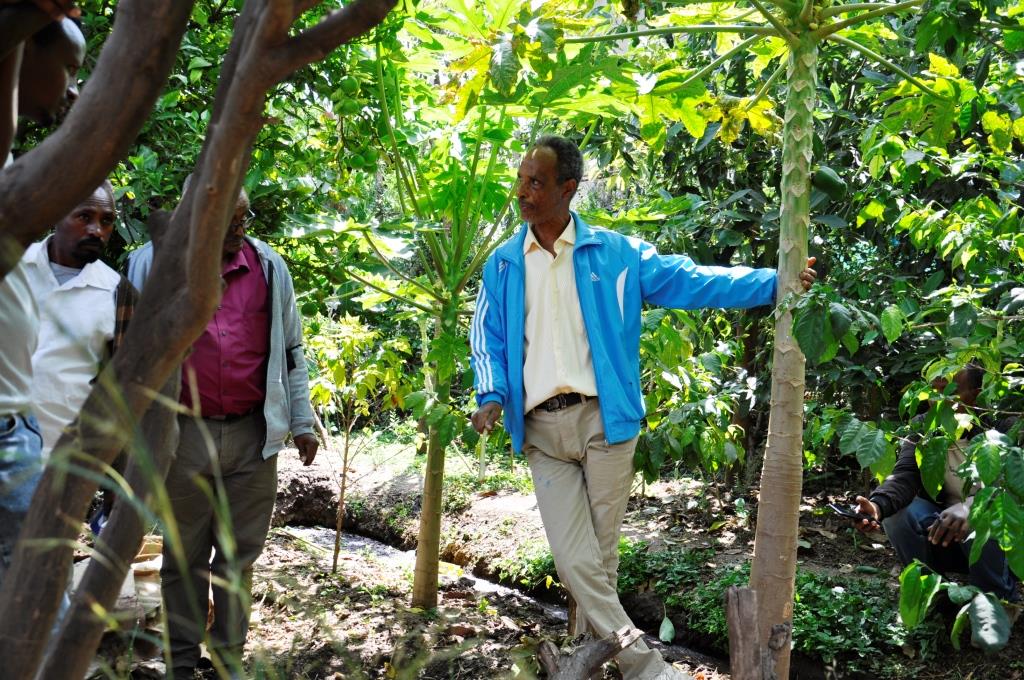 the fourth and final day of the training was in Adama.it was mainly focused on evaluating conducted visits and the practical training delivered based on the elements of agroecology. participants also shared good Agro-ecological practices implemented at their respective project areas and at the end participants what they plan and  the way forward. at the end of the training, participants paid their appreciation to PELUM Ethiopia for the keen support and urged for more capacity building training in the future.